Universal and essential
storage container
New addition to the UTIL family, KGT is a simple container made from aluminium. It is a portable serving tray, a stackable storage box and a wall mounted shelf.
In its widest terms, anything used to hold and transport goods are the definition of 'boxes'. Boxes are used here and there around the home for storing and organising. The project takes its roots from one question: What would be a good storage system? We thought of the simplicity of a crate, the traditional industrial typology for transporting fruits and vegetables. A crate, but that is a bit more home friendly, that would fit nicely in a domestic interior. So what are the essential characteristics of a crate? It is a simple container, a box that stacks and that is portable by hand.
The resulting KGT is a light and solid box that is made of aluminium, which is reusable and durable, and also widely recyclable. Working with Util, we developed KGT so it is manufactured using straightforward steps of stamping, cutting and bending of a single sheet of aluminium. Each process reveals a specific feature of the product; its solidity, its stackability and its portability. KGT is a storage item that can stack and that can be carried by hand, that comes in a variety of colours to adapt to interiors. The box dimensions make it useful on a table, in multiple on a shelf and in a large number it can even become an element of furniture.

portability
The sides of KGT integrates a recognisable and elegant notch. These two small holes situated at the bottom corners allow for an easy lifting and grabbing of the box.

stackability
KGT is designed with two return folds at the top, allowing the box to stack on top of another one. Thanks to stamped feet at the bottom and stamped dishes at the top, stacked KGT locate and keep their position.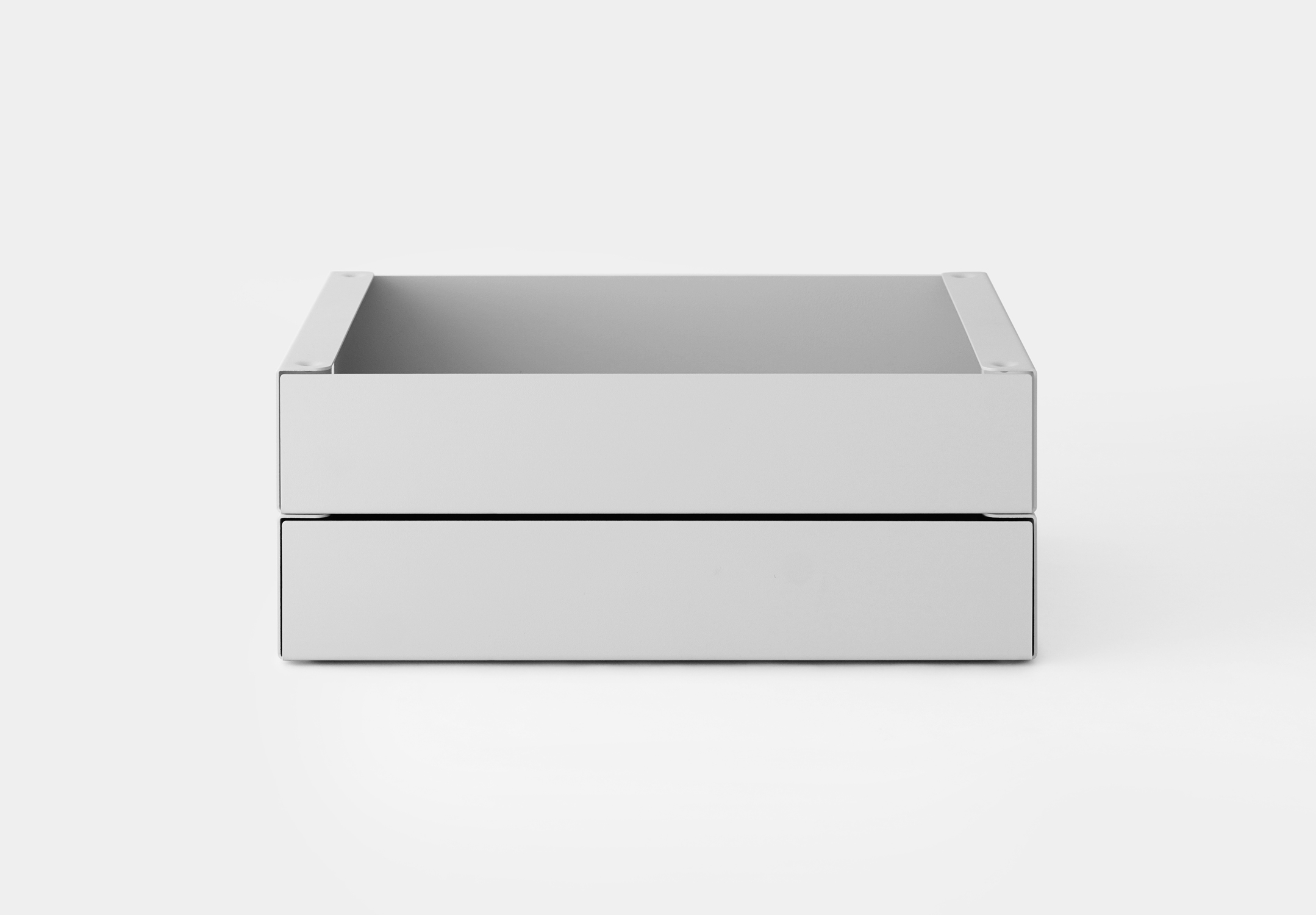 wall-mounted

With the addition of a specially designed hook, KGT can hang off the wall. It becomes a vertical wall shelf that can house and display items, with dimensions that can contain the minimum needed for a wall. It brings an element of decoration to the interior, discreetly influencing the atmosphere.